Welcome to the Bunny & The Boys Website!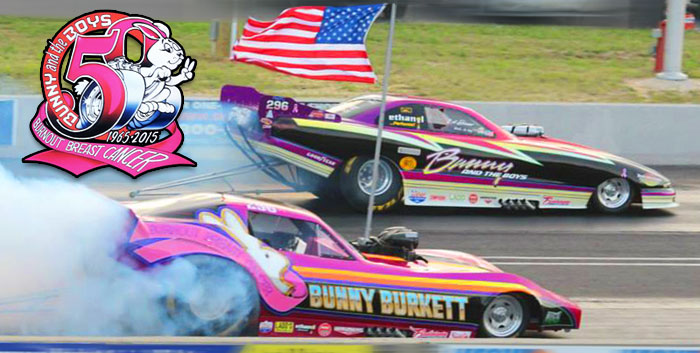 The Story 

First of all I would like to take this opportunity and thank each and every one of you who have been such loyal fans of ours. Without you….we are nothing but just another race team out on the circuit struggling. It is because of you that we are now in what would have been Bunny's 55th year in racing! When you stop coming to see us and cheering us on is when we pack it up! So far, it doesn't seem to be happening and for that we are Blessed……Thank You!
Make sure to view our whole site and sign our guestbook if you haven't yet!!

Well, like I said….it's Bunny and the Boys' 55th year of racing and she still had the desire to entertain all her fans. We may be older but our heart is still into racing and trying to get the win light whenever we can. As most of you may know…..She has been through quite a ride and I'm not saying in a race car. It really all started in 1995 when she had her horrendous crash at Beaver Springs Dragway, September 4th, Labor Day Weekend. Luckily Bunny bounced right back to the car and continued to prove her strength.
She not only suffered the "CRASH", she's been through Breast Cancer, Total Hysterectomy, Hip replacement (not once, but twice) and Gall Bladder removal! Yet……she still wants to drive! Now, she doesn't have to prove anything to anyone out there just how tough she is…….because SHE IS ONE TOUGH COOKIE!!! She is my Hero in more ways than one and I am so Blessed to even be part of her Team. I've been with Bunny and Mo now, damn near 30 years! Yikes!! They helped me bring up my wonderful son, Lil Bear, and helped mold him into a true racer, they let him get his Alky Funny Car license in their car as well. I brought Lil' Bear into their lives, I guess he was about 18 months old, when I stopped by their home with LB dangling from my arms with a dirty diaper and asked Bunny for help. It was history then…….I was hooked on, not only the Funny Car, but Bunny and Mo as well. They are the nicest and most caring people in the world that you would ever want to meet. I love them for eternity!
Let me tell you about some of Bunny's accomplishments. It started many years ago, when someone told her that "women can't drag race"! Ha….Boy was that a mistake! She went on a mission and hasn't stopped yet! She'll have to tell you about some of her upbringing in  the racing world sometime, but all I can say, it has been very entertaining to say the least. Briefly, I'll share a few things she has accomplished………
 55 Years of Racing
1986 IHRA World Champion
NHRA Division !! Champion
Super Stock Hall of Fame
East Coast Drag Times Hall of Fame
Little Guys Nationals Hall of Fame
Maryland International Raceway Hall of Fame
York US 30 Legions of Honor
Drag Racing List / Racin'& Rockin' Radio's #1 Female
Alcohol Funny Car Driver of ALL Time!
That's just a few off the top of my head and she is STILL Going….and Going….and Going….and Going! Now why she never had a major sponsorship, I really couldn't tell you. To me, they are missing the boat! We are always approached for interviews by TV, Radio, Newspapers, Magazines, Etc….Etc…. She had a great personality and persona about her. And above all….like I said earlier….She was my HERO! The Boys and I made sure she was safe in the car, then we worry about how the car runs! The Boys just want to have fun! We are not looking to break any more records. Been There, Done That! We Love You Bunny………..Enough Said!!!!!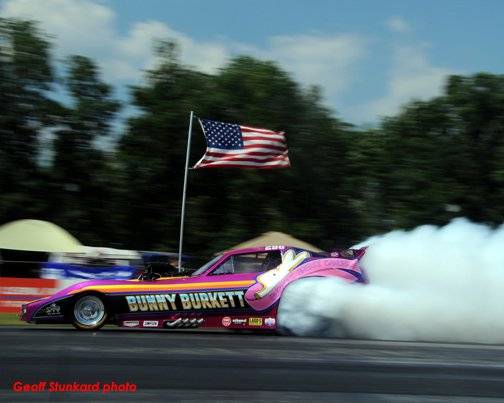 Now a little bit on my son, Lil Bear, (AKA Gary Aaron Pritchett), "The Fresh Prince", a wonderful son. It all started with a "Shitty" diaper actually. Bunny took great care of him then and still does to this day. Bought him a Big Foot Electric Truck and he ran it till the wheels couldn't catch any traction. Then came a Go-Cart….Fearless! Thanks to John Boyce, a crew member of ours at the time, showed LB how to bypass the governor at 4 years old!
He again….wore it out as well! Then came the Jr. Dragster and a Jr. Funny Car saga. The best time of my life with my boy. We had fun together throughout his Jr. career. Next up….got his license in Top Dragster. THEN….The most awesome thing happened not only to him, but to me as well. Bunny & Mo let LB get his license in her Alky Funny Car! Now in the meantime, when he turned 19, Bunny was going through some tough medical times and she wanted LB to continue his dream, to drive a nitro car. So, she found him a job, thanks to John Boyce who has moved up through the ranks. He was hired on David Powers Motorsports assisting with Hot Rod Fuller's Top Fuel Dragster! The Team folded in 3 years due to money problems….go figure. So, Joe Hartley quickly picked him up. They also ran out of money so LB was looking again for a job and that's when Team Lucas brought him in on Shawn Langdon's Top Fuel Dragster. He was with Lucas for a couple of seasons then got another opportunity to grow and achieve his next step with Steve Torrence. He's been with Torrence racing several years now and I am so damn proud of my boy! To watch him work on Fuelers and most of all….race Bunny's car whenever we can set up a match race working around his NHRA schedule. He's a busy young man……..BUT…..He's doing what he has always wanted to do and get this….he gets paid for what he loves to do! Hard to find a job like that …..isn't it!
                                                               Good luck my son…I Love You!!!!!
Enjoy the site,
The Bear